10th to 16th June is Carers Week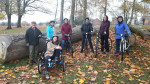 Carers save Wales over £8000,000,000 every year.
Each year a variety of activities are held to recognise the value and role of carers.
To find out more about activities in your area please check our latest Spring newsletter below
Don't forget, the Parents Federation hold weekly activities all year round for carers in Cardiff and the Vale of Glamorgan. They are free and fun ways to meet other carers and make friends while learning about what other support and opportunities are on offer.
Check our Connected Carers and Vale Carers pages for details or call us on 029 2056 5917 
Don't forget to add us as a friend on facebook to be kept abreast of these and much more information on a daily basis