Support for carers in the Vale of Glamorgan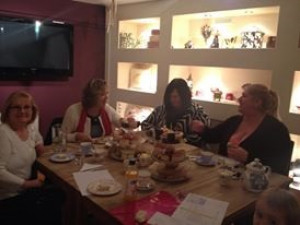 Meet other unpaid carers
We host social gatherings in the Vale of Glamorgan where carers from all backgrounds can get together in an informal setting, relax and share ideas, experiences and coping strategies. Gatherings are free and a great way to meet others in similar circumstances, exchange ideas and information-and have fun! 
We host gatherings year round and promote them on social media as well as through our newsletters. be be sure to find out about the latest dates, add us as a friend on facebook or become a follower on twitter.Events are held monthly across the Vale and we are always looking for new ways in which to support families – please contact us with any suggestions.
Carers Week
During Carers Week each year the council works with its many partners to help co-ordinate a range of activities and events to promote Unpaid Carers Rights and opportunities for unpaid carers. Details can be found on the events or news section of this site.
Online resources
You may find this new online resource of interest, it has been produced by the local health authority and is the Carers website for Cardiff and Vale University Health Board, Cardiff Council and Vale of Glamorgan.
The site is for anyone who is providing care to someone at home or possibly in a hospital or a nursing home. We have consulted with people who have provided or are providing care to a loved one and asked them what additional personal information they would want to help them manage this role better. The website is designed specifically with carers in mind and provides bite size pieces of information to digest when you want to.

You will also find lots of useful information and links to many other website in our online information guide at www.whereyoustand.org and the Dewis.Wales website
Yet more information on unpaid carers' support services can be found on the Vale of Glamorgan website click here
The latest edition of the Vale Caring Times can also be found on the above site