Keeping fit during the lockdown
Some useful links to stay fit and healthy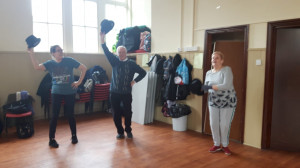 The Vale Exercise Referral Team have their own YouTube Channel with some really good home exercise videos suited to a wide range of people.
Disability Sport Wales also have a number of their Para-Athletes taking part in home workouts.
The Vale Sports and Play Team have created a number of games the family could play, there is a new one posted each day.
Have a look at the Social Media pages for more information, all the links or addresses are below.
To access any of these simply click on the links 
Youtube
Vale Exercise Referral Team
https://www.youtube.com/channel/UCx-Buf3JM8WBB808ar1U9aQ/videos?disable_polymer=1
Disability Sport Wales YouTube Channel
https://www.youtube.com/channel/UC00NJ85E3UurrikAzqHpv5A
Twitter Pages
@ValeDSW
@valeplayteam
@ValeSportsTeam
@dsw_news
Facebook
Disability Sport Wales
Vale Sports and Play Development – Healthy Living Team
Instagram
Disability_sport_wales
Vale Play Team