25th Understanding Disability Awards a great success!
Celebrating inclusion for a quarter of a Century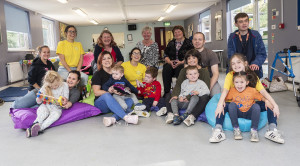 Over 100 attendees saw Awards made to some amazing people who deserve recognition. A full report will soon follow but notable awards included a lifetime Award for Steve Thomas recognising his work with young disabled people, Pauline Young MBE for a lifetime of outstanding work in promoting the rights of carers and  people with a learning disability and to cap it all, an award for Norbert Flynn, chair of the Understanding Disability Group. Norbert has been an active supporter of people with a learning disability and a founding member of several successful charities in the sector in the 30 years since he 'retired'. Full details are below and a shorty summary can be found here.
 Understanding Disability Awards 2018
The 25th Anniversary of the Understanding Disability Awards were presented to Groups, Individuals, Employer and Organisations at a Ceremony held on Thursday, 8 November 2018 at the Future Inn in Cardiff Bay.  The Awards were presented by the Lord Mayor of Cardiff, Councillor Diane Elizabeth Rees and Councillor Leighton Rowlands, Mayor of the Vale of Glamorgan Council.
Guest speaker, Mike Lewis, Grants Manager from the Lloyds Bank Foundation spoke about how the Foundation has supported the work of small charities working with people with learning disabilities in Wales.
The Employer Award was presented to Woodville Road Nursery of Cardiff for employing a young person with a learning disability for 5 mornings a week.  Willows High School of Cardiff were presented with the School Category of Award for supporting a child with a learning disability and her parents during the critical period of transition from primary to secondary school.  The family were included in discussions aimed at helping the child overcome her emotional difficulties.
Romilly High School of Barry and Andrew Spracklen, a Learning Support Assistant from Maesteg School, Bridgend were Jointly Highly Commended under the School Category.
Christian Vaughan-Morris, a Social Worker from the Cardiff Council Learning Disability Team received the Professional Award for the advice, support and compassion given to one family, over and above his line of duty, resulting in successful outcomes for the service user and the family.
Karen Barker of Cardiff Council's Play Services Department was highly commended in the Professional Category.
Pauline Young MBE, a Parent of a person with a learning disability, Chair of the All Wales Forum of Parents and Carers and Trustee and former Chair of the Cardiff & the Vale Parents Federation, was presented with the Lifetime Achievement Award for representing and speaking up on behalf families of people with learning disabilities over many years.
The conFUSION and Fusion Dance Groups, run by Rubicon Dance of Cardiff, were presented with the Local Group Award.  The dance groups comprise of young people with learning disabilities who then progress to produce their own shows which are performed in public.
Autism Puzzles Cymru were highly commended in the Local Group Category.
The Volunteer Category Award was presented Jointly to Joshua Watkins of Rhoose and Kat Williams of Cardiff.  Joshua has a learning disability and is an ex-pupil of Ysgol y Deri Special School.  Joshua volunteers at the Rhoose Homework Club for 5 days a week, overseeing 30 children in sport and physical activity sessions. These sessions have helped the children to improve their concentration and due to Joshua's efforts, he has managed to everyone engaged in sporting activity.
Kat Williams, a single parent of two children with Autism and physical disabilities and having ADHD and Autism herself, managed to volunteer almost fulltime at the Autism Puzzles Charity.  She has used her experience to write articles and blogs and deliver Autism awareness training to local play centres and schools.
Lisa Edwards of 10th Barry Guides was Highly Commended in the Volunteer Category.
The Children's Category Award was presented to Oshi's World, a small children's charity for running a variety of accessible sensory and play sessions for children with disabilities.  The sessions are open access where families can drop in free of charge.
Steve Thomas, founding member,  Director and Trustee of ValePlus was presented with the 25th Birthday Special Award.  ValePlus provides day service activities for people with learning disabilities in the Vale of Glamorgan.  Steve has fostered links with other organisations, promoting training and work placements to local schools, nursing and the police. He has also promoted new opportunities for people with learning disabilities by opening a charity shop – 'NOVA', Cafe Number 5 run by service users who are given the opportunity to train in food hygiene and food preparation and a new outreach scheme in Llantwit Major.
Mike Lewis of the Lloyds Bank Foundation presented Certificate to the Shortlisted nominees.
Another Award recipient worthy of being mentioned, was Norbert Flynn, Chair of the Understanding Disability Group, Trustee of the Cardiff & Vale Parents Federation, the All Wales Forum and, Trustee and founding member of the Friendly Trust.  Norbert was honoured for his services to people with learning disabilities and for his outstanding contribution in promoting inclusion.
The event concluded with entertainment from the superb Riverbank School Choir, the Woodlands High School 'ABC' Dance Group and the Upbeat Performance.