Celebrating the inclusion of people with a learning disability - Don't Delay - Nominate Someone Now!!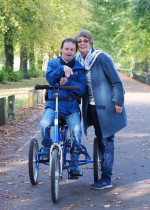 Every year we hold an awards ceremony to acknowledge and celebrate the efforts of those who have made an extra effort to include our children. We encourage nominations all year round to recognise the many hidden heroes who make our children's lives so much easier.
This year was the 25th Anniversary Ceremony and was a fantastic success.
Over 100 attendees saw Awards made to some amazing people who deserve recognition. A full report will soon follow but notable awards included an award for Steve Thomas recognising his work with young disabled people, Pauline Young MBE for a lifetime of outstanding work in promoting the rights of carers and  people with a learning disability and to cap it all, an award for Norbert Flynn, chair of the Understanding Disability Group. Norbert has been an active supporter of people with a learning disability and a founding member of several successful charities in the sector in the 30 years since he 'retired'.
A full report is below